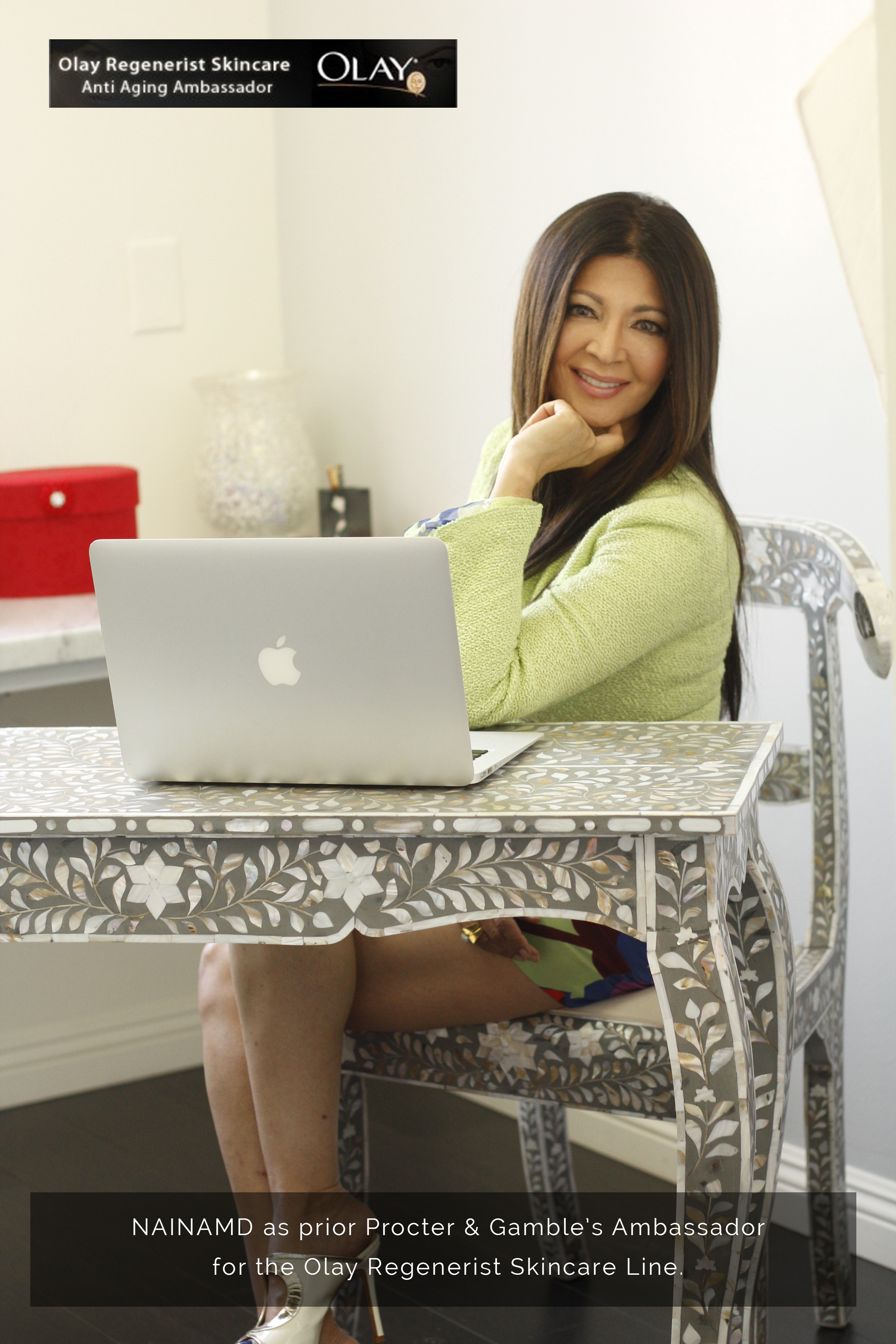 Dr. Naina Sachdev has launched the NAINAMD™ Beverly Hills brand and she currently has a practice that focuses on Aesthetic, Integrative, Functional, Anti-Aging & Regenerative Medicine.  As Anti-Aging expert she serves as Medical Director at NAINAMD™ Anti-Aging & Regenerative Clinic in Beverly Hills, California.  Her international clientele base includes patients from  Bangkok, Dubai, Mumbai to Beverly Hills.
NAINAMD™ was Proctor & Gamble's Ambassador for the Olay Regenerist Skincare line, launched internationally.  She shared the enthusiasm and commitment with Proctor & Gamble in educating consumers about the opportunity on the latest cutting edge wellness and skincare regimens.
Dr. Naina Sachdev of NAINAMD™ is Board Certified in Anti-Aging & Regenerative Medicine and fellowship in Functional, Aesthetic and Stem Cell Medicine by the A4M Academy of Anti-Aging and Regenerative Medicine. NAINAMD™ is a renowned national and international speaker on various topics of her integrative specialty, particularly in bioidentical hormone replacement therapy, aesthetics and detoxification.
For the past 15 yrs NAINAMD™ has focused on blending conventional medicine, nutrigenomics, biochemical and aesthetic disciplines to create customized regimens for her patients. These unique programs can deliver better health, an improved appearance from the inside out leading to an enhanced lifestyle, often dramatically transforming patients lives.
Dr. Naina Sachdev of NAINAMD™ is able to apply critical knowledge garnered through her medical degree from Chicago Medical School, her general surgery and internal medicine training combined with her integrative specialty. NAINAMD™  interest in free radical research led research on the effects of hyperbaric oxygen therapy on burn patients at the University of Chicago.
In her ongoing pursuit to continue to launch cutting edge advancements, she is currently involved with clinical research on skin aging and bioidentical hormone replacement resulting in a patent Sept 2016. .
Read More
NAINAMD's™ goal is to empower her patients to be in charge of their health and beauty. As the creator of an approach called "The Fusion of Science and Beauty"™ from the inside out, she incorporates nutrigenomics, functional medicine scientific testing and state of the art aesthetics equipment. Utilizing her extensive experience with internal and anti-aging medicine, Dr. Naina can beneficially impact a patient's health at multiple levels. Her customized protocols Dr. Naina develops can assist with hormonal imbalances, fatigue, depression, anxiety; weight gain, facial rejuvenation and body sculpting that fight the signs of aging.
In Dr. Naina's continued pursuit of health and beauty, she is in the process of launching a revolutionary patent skincare line, nutrigenomics lines and functional beverages brings "The Fusion of Science and Beauty™" from the inside out, to patients at home where they can prevent and treat the signs of aging every day by incorporating the scientifically advanced products into a daily regimen.
More recently she has taken a new role of being an activist on women issues. She was honored by international Saris to Suits Charity to be on their calendar 2015-2016 which helps empower South Asian women. She also is taking a leading role of physician abuse by medical state regulatory boards on phyisicans practicing integrative medicine.
Dr. Naina Sachdev currently serves on several boards and also a faculty member of several organizations. She will be releasing her new book in late 2017, which will empower women to share her passion to stay young, from the inside out and live the NAINAMD™ LIFESTYLE. She also hosts TV show in Los Angeles called "Fusion of Science & Beauty now in its third year.
I began seeing Dr. Naina about four years ago. After enjoying perfect health all of my life, my cholesterol levels were off the chart, I was border-line diabetic, had indications of metabolic syndrome disturbances, had suffered hemorrhages with my cycle, chronic exhaustion, worsening allergies, weight gain, and even a frozen shoulder--all within a couple of years... in my mid 50s. I sent my two daughters to Dr. Naina in Beverly Hills, so that's about the best referral anyone can make! She is FABULOUS!
-- Tina M.
Dr. Naina is an amazing doctor, I cannot believe how much better I've felt since I've been seeing her three years ago. I felt sick for a long time, and doctor after doctor, I would be given treatment and medicine that just didn't make me feel better. I was about to give up, but a family friend recommended me Dr. Naina. I'll be honest, I was hesitant at first after going to doctor after doctor... but I decided to give another doctor a shot and wow, am I glad. After seeing Dr. Naina, within just a few weeks, I started feeling dramatically better, it felt like this weight was lifted off of me. She seemed to genuinely care about my health, and wanted to help solve the underlying symptoms of my problem. I highly recommend Dr. Naina.
-- George K.
Dr. Naina Sachdev has changed my life! I have been her patient since 2004 and am very healthy because she has made sure that my hormones are in balance including my thyroid. She tests me every 3 months to be sure the thyroid is at the correct level. She is the one that I want on my team to get through all of the aging process including all the way from pre menopausal to menopause and beyond! With her direction and hormone replacement therapy one day I just stopped having a period there were no hot flashes or mood swings it was amazing! She cares so much for each individual and does research to insure all of us get the very best care that is possible. I could write a book on all she has done for me and my daughters. She is truly amazing!!
-- Rhonda
Dr Naina Sachdev is brilliant, passionate, and thoroughly knowledgeable. Best of all, she is completely on your side. When she takes you on as a client you can be sure you are getting cutting edge information and products, as well as her total commitment to your health and well being. I have recommended her to everyone I know. She is a genius and I adore her!
-- Sara A.
"Dr Naina is one of the most brilliant, caring , & compassionate doctors I have been blessed enough to call my doctor and now, friend. She is the only one out of the countless doctors I've seen in regards to a rare health issue that has truly genuinely cared and you know without a shadow of a doubt that her priority is to have you walking out a better person physically / emotionally / mentally than when you walked in. She is so knowledgeable and ahead of the game in every area. My life has forever changed for the better since we met! She's truly brilliant and works on a whole other level then most doctors. If you happen to be lucky enough to become a patient ... congratulations .. you just hit the gold pot and are in the absolute best hands !! I thank God every day that I found her !! Grace is an absolute angel as well and just adds to the perfection and awesomeness of that office." - Nicole W on Yelp 4/4/2017